December 25th, 2008 | by Matt |
Our cow ornament hung high in our tree this morning, looking over us as we opened gifts on our first Christmas without Kevin. It has been especially difficult these last few weeks during what is supposed to be such a happy and family-oriented holiday. We miss him as much as ever. Christmas Eve night was especially hard, as we watched a couple of movies and then sat around the lighted tree. We knew that Christmas morning wouldn't be the same without little Kevin. Emily said how much she missed him. We all couldn't help but cry.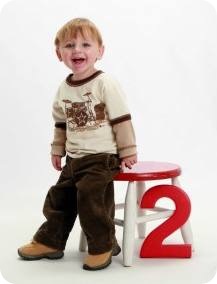 We've had a few family and friend gatherings already, and it's been nice. We've been able to enjoy ourselves and  those around us, but still have a lingering sadness. It is hard to see little boys in the mall, toys that Kevin would have loved, kids getting pictures with Santa like Kevin would have, and family traditions of others going on as usual while ours was so different this year. But we have also had good times with family and friends, and we think Emily had a good Christmas too. It helps to continue with our family traditions as much as we can and to enjoy everything and everyone that we do have.
Last week Dawn remembered that we had taken pictures at The Picture People a few times with Kevin, and she logged on to the web site to see if any of the sittings were still on there. Lucky enough, his pictures from his 2nd birthday were still up there. It was so nice to see new pictures that we hadn't seen in a year, because we didn't order all the ones that were taken. We ordered a bunch of them (like the one shown here), because they won't be available on the site for much longer. I copied small versions of them to my computer just to have them all. Seeing new pictures is still a great feeling.
Finally, some of you reading this may not be aware that next Christmas will be very different for us too. It will be our first Christmas with our new son or daughter – Dawn is pregnant and due July 25th, 2009! This is good news for us, and keeps us hopeful and looking forward. We are blogging about how the pregnancy is going at BabyKruse.com. We will of course always have Kevin in our hearts and wish he was with us, but we also now look forward to continuing our family.
Merry Christmas to everyone!